Framework and funding
MARENDA project "Development of port database interchange mechanism, marine environment protection and emergency response performance" was framed in the Programme "INTRA-ACP Support to the maritime transport sector in Africa", funded by the European Commission and awarded by the ACP Group of States through the 10th EDF Intra-ACP envelope.
Duration
The project started on 15 March 2014 and had a duration of three years, ending on 14 March 2017.
Scope
The geographical scope of MARENDA   covered coastal countries in West and Central Africa, but due to limitations in time and resources, five countries and associated ports were selected within which the  the core activities of the project were implemented . The targeted countries and associated ports were Sénégal (Dakar port), Côte d'Ivoire     (Abidjan port), Ghana (Tema port), Cameroon (Douala port), Nigeria (Lagos port).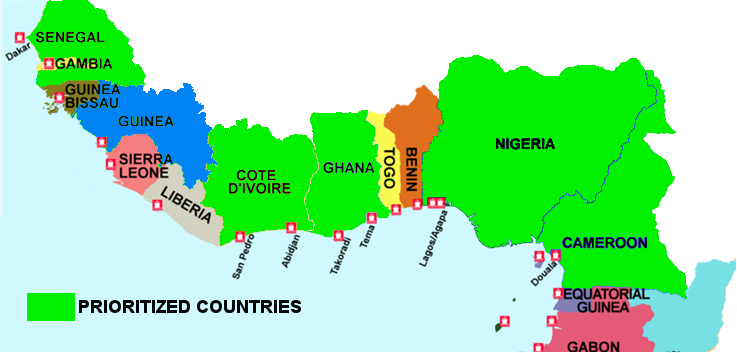 Objectives and associated activities
Objective 1: The improvement of maritime data management in ports and regional exchange of data (mainly ship and cargo information).
Associated activities:
Assessment phase through desk top study, surveys, missions and meetings with national and regional stakeholders.
Definition of a port data exchange platform and associated hardware and software (IT tools).
The provision of IT tools to selected ports through and international tender.
Shipment and installation of the IT tools.
Regional Workshops and courses, and (in situ and remote) training activities for the ports.
Objective 2: The improvement of emergency response mechanisms against maritime pollution
Associated activities:
Assessment phase through desk top study, surveys, missions and meetings with national and regional stakeholders.
Definition of a Capacity Building Programme based on needs and priorities expressed by stakeholders from the priority countries of the project
Delivery of Regional Workshops, Courses and Trainings on the job activities.
Elaboration of a regional GIS database on resources for oil spill response and setting up of the basis for bilateral and multilateral agreements in terms of sharing pollution response resources.
Setting up of an online Learning Platform which includes teaching material from the different trainings delivered in the project.
Beneficiaries/Stakeholders:
At national level, the main stakeholders were the Maritime Administrations and their designated Agencies dealing with maritime safety, oil spill response and environmental issues, as well as the National Port Authorities.
At regional level, the project activities were supervised by a Programme Steering Committee that in addition to EC and ACP, included key regional organizations such as Economic Community Of West African States (ECOWAS), Economic Community of Central African States (ECCAS), Port Management Association of West and Central Africa (PMAWCA), The Maritime Organisation for the West and Central Africa (MOWCA) and Abuja MoU as well as the Regional Maritime University (RMUs), located in Accra and the Académie Regionale des Sciences et Techniques de la Mer (ARSTM)located  in Abidjan.
Partnership, Key Expert Team and Technology Providers
The partnership included:
CETMAR (Coordinator)
World Maritime University – WMU
TEIRLOG INGENIERIA
GMV SISTEMAS S.A.U
Universidad de Las Palmas de Gran Canaria – ULPGC
The project benefitted from working together with a highly qualified and experienced team of experts in maritime transport and safety, IT and maritime database that contributed to the project implementation.
Mr Amadou Ndiaye: Team leader
Mr El Hadji Mar Gueye: Maritime data base specialist /IT expert
Mr Adama Sy: Maritime Safety Expert
Mr Dramane Cissokho: Maritime Safety Expert
Well recognized experts such as Frederic Marignac and Esterine Evard (Le Floch company) Richard Hill (OCT), Jesús Uribe, Justin Kom, Tomas Liebert (IOPC), Dan Thorell (Swedish Coastguard) and Sergio Rodriguez Carbonell (SASEMAR) successfully contributed to the capacity building programme.
The company RGO Communications Ltd was awarded with the provision of hardware (AIS and associated equipment) for the ports of Abidjan, Tema, Dakar and Douala and the software for the data exchange system. The company Securenet Satcoms Systems Limited (SSSL) was awarded with the provision of hardware for Lagos port. Both companies delivered useful training activities related to the equipment provided.
Project outcomes
After three years, and thanks to the strong involvement and commitment of national and regional key organizations, MARENDA has achieved its objectives in terms of improving maritime data exchange between ports in the region as well as enhancing emergency response mechanisms and capabilities against maritime pollution at national and regional level.
Key tangible outcomes include the regional AIS data exchange network, the GIS regional database on resources for oil spill response and the MARENDA online learning platform which includes training material from the different training activities (see resources section).
Those resources are being/will be transferred to other countries in the WCA region with the valuable support of regional organizations:
Regarding objective 1, PMAWCA played/is playing a crucial role in the implementation and further extension of the data exchange network in the region.
Regarding objective 2, RMU and ARSTM provided a strong support in the organization and hosting of training activities and in the further capitalization of training resources.
For the purposes above, MARENDA signed Memorandum of Understandings with PMAWCA, RMU and ARSTM.